Unofficial Yelm Results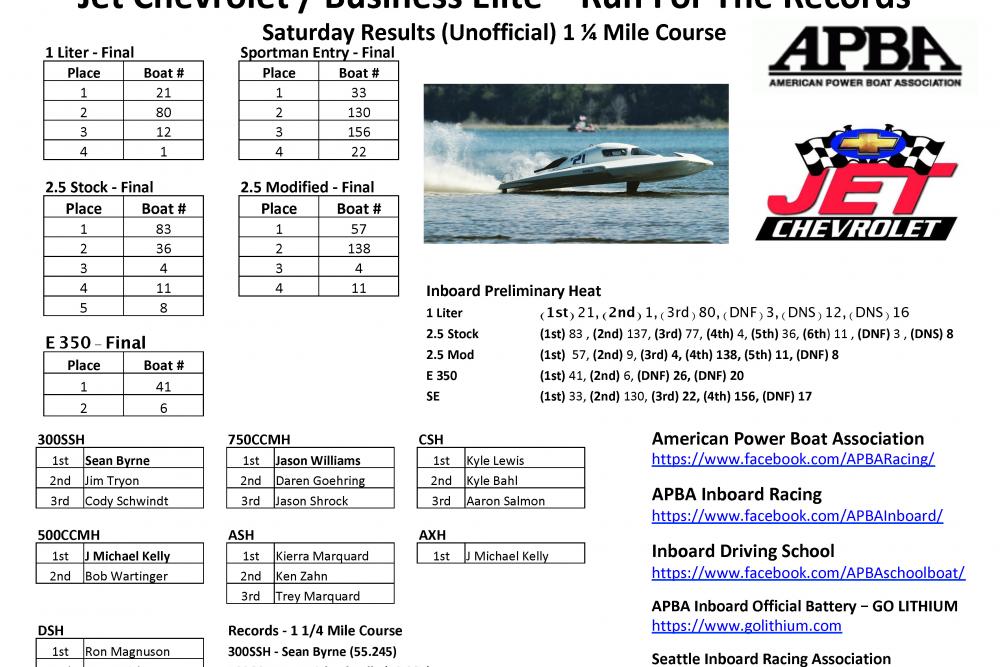 Seattle Inboard Racing Association
The Jet Chevrolet Business Elite - Run For The Records is in books for 2019 along with 6 additional records at Lake Lawrence in Yelm, Washington! Congratulations to Jim Tryon, Jason T Williams, J Michael Kelly, Kierra Marquard, Sean Byrne and Kyle Lewis.
Saturday was blown off. Sunday was a new day, and we were able to run the entire Saturday and Sunday schedule on two different course sizes. To make this happen, everything had to fall into place, and it did. Thank you to the racers for being ready each heat and for understanding the situation. We appreciate all of the entries and the people who traveled from outside of Region!
I would like to thank Steve Parker for all of his efforts as the Race Director, along with R.W. Dick Lynch, Jet Chevrolet, Scenic Shores and SIRA BOD Members. Thanks to the barge crew of Chas Dodge, Rick Sandstrom, Aaron Stephens, Jan Morgan Shaw, Lisa Malmo, and Charlie Browne for the use of Nick! Marie Chavis Jackson for the hours at the gate! Jerry Kelson for the multiple hats he was wearing. Howard Shaw, Jim Nilsen, Daren Goehring and Jeff Kelly for running the outboard side. Region Ten Patrol and Rescue along with all of the turn judges.
-Matt Yarno
American Power Boat Association, APBA Inboard Racing, APBA Vintage and Historic, APBA Modified Outboard Racing, APBA Junior Class Racing, Stock Outboard, APBA Region 10 Racing, Seattle Drag and Ski, Tacoma Inboard Racing Association, NorthwestHydroplanes.com, Northwest Powerboat Association, Region 10 Vintage Hydroplanes, HydroRacer Live, Throttled: Stock Outboard Racing Podcast