San Diego Bayfair 2019 - Stock, Inboard, OPC
Photo: Sam Hodgson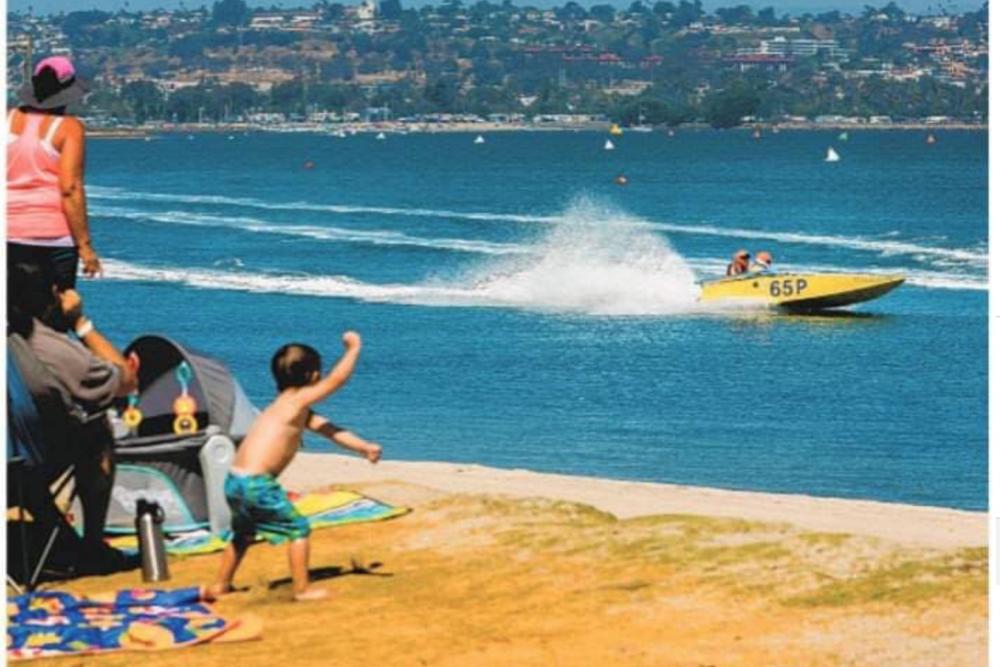 The Southwest Boat Racing Association (SWBRA) co-hosted the APBA races at San Diego Bayfair on Mission Bay, sharing the sanction and water with the H1 Unlimiteds and Grand Prix World hydroplanes. Hosted classes were CSH, 300SSH, 20SSH, SST 45, Cracker Box, and 1 Litre. The Stock Outboard classes had 6 entries each, five in SST 45, three Crackers and a whopping NINE 1-Litre hydroplanes. 1L ran the same 1 2/3 mile course as the Grand Prix hydroplanes, a shortened version of the H1 Unlimited course, sharing pits and cranes with the H1 and GP boats.
The other APBA entries (SO, OPC, Cracker) ran a small course just off Ski Beach in front of thousands of enthusiastic spectators who were kept well-informed of the turn-by-turn action and general boat racing facts by Kay-dub. Running the kneelers close to shore and early in the morning provided for good water conditions for the Stock Outboards.
All racers enjoyed three fun, safe days of racing in perfect weather, on good water, with great food, and unparalleled boat racing. Several went home with some great-looking awards. Below are the unofficial results.