The 64th Newberg Memorial Weekend Boat Races is the granddaddy of western outboard races. There is recorded history of boat racing on the Willamette River at Newberg, Or., as far back as 1902, when row boats competed for a trophy. The current incarnation began as a marathon to Albany and back 1948 as the Newberg Boat Club (NBC) helped Yamhill County show off the new boat ramp at Roger's Landing. The current circle race configuration started in 1952 under APBA sanction. With the exception of the flood year in 1996, NBC (now with the help of Columbia Outboard Racing Association) has put on this holiday show ever since.
This is a river course, referred to as "Little Detroit" by outboarders (who double as unlimited racing geeks) due to the long chutes, rough water, sweeping turn one,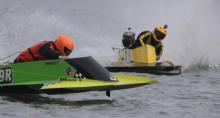 and incredibly tight turn two. Turn two provides photographers with shots as spectacular as the Roostertail Turn in the Motor City. The river is "best" with a cessation of spring rains by Thursday of race week, but Friday thunderstorms left a telltale ribbon of mud in the main channel and a rising river.
Saturday morning found an angry river. Over the course of the weekend, she would claim boat bottoms, gear cases, shear pins, and propellers. Drivers dumped in turn two, the chutes, or leaving the launch area. But that's Newberg. The rough conditions led to a decades‐long tradition called the Helldiver Award. It goes to the first driver to enter the water by means of exiting their boat while under way. Saturday's winner was Kyle Bahl as a seam opened in his CSR, and on Sunday it was Bruce Reins losing the battle to a wake exiting turn two.
photo2.jpg
In Saturday racing action Daniel Korpe doubled up in ASH and AXH as did Mike Kelly in ASR and 45sst, and Jared Kaiser in AXR and JH. Anne Baggenstos prevailed in 20ss, Jerzee Holman in OSY 400, and Jim Nilsen in C Service runabout. Daren Goehring was the man to beat in 500ccMh, and Lance DeStefans from California in Sport C (another tradition restarted – racers coming north from California). Kyle Lewis survived in CSH, and Jack Fournier and his big river boat outlasted the field in CSR. Mark Allen won the PRO/Mod combo class for the fast boats, and David Sullivan took Novice C.
The evening festivities saw the traditional dunking of first time winners Sullivan and Fournier. At dusk, the crowd began gathering at the bonfire, yet another Newberg tradition. The bonfire starts with scrap wood and some debris pulled from the river during the race.
And then, a race boat(s) gets a Viking funeral. Sometimes, it's just an old boat. Other times, it's a wrecked boat that needs to burn to provide some closure. This year it was Dave Anderson's DSH, last seen as part of Aaron Salmon's skyride at kilos last year.
Sunday morning arrives, the river is dropping, it's a little warmer, and boats and equipment have been repaired or replaced. Repeat winners from Sunday included Kelly in 45sst and ASR, Lewis in CSH, Nilsen in C Service runabout, Holman in OSY 400, and DeStefans in Sport C. Kelly also added a win in SST45, as did Holman in 20ss. Bahl returned in the newly repaired 20*R for a win in CSR, and Lee Tietze brought out the river hydro to take PRO/Mod combo. Ryan Thompson swept AX, winning both runabout and hydro. Ron Magnuson won Novice C, and Salmon took ASH in Dan Schwartz's Sidewinder rig.
Dan returned to Newberg for the first time since his accident (another tradition – he and wife Jean coming up for the weekend). He was Chief Inspector on the weekend (ably assisted by Carl Lewis and Joel Policar), and as the ASH drivers and crew came by for a height check after the final heat of the weekend, they all came up to Dan and shook his hand in thanks for his efforts on the weekend. And maybe that can become a new tradition; a hand shake and a thank you for the race officials after a long weekend.
Sunday night, it's the traditional pizza at Abby's as our friends fuel up for the long drive back to the Seattle, or the even longer trek to California. For NBC and CORA, the weekend extends to Monday morning, pulling the 90 pound buoy anchors from the river, and hauling away the mechanisms of another Newberg boat race. We'll be back for number 65, Lord willing and the river don't rise (too much).