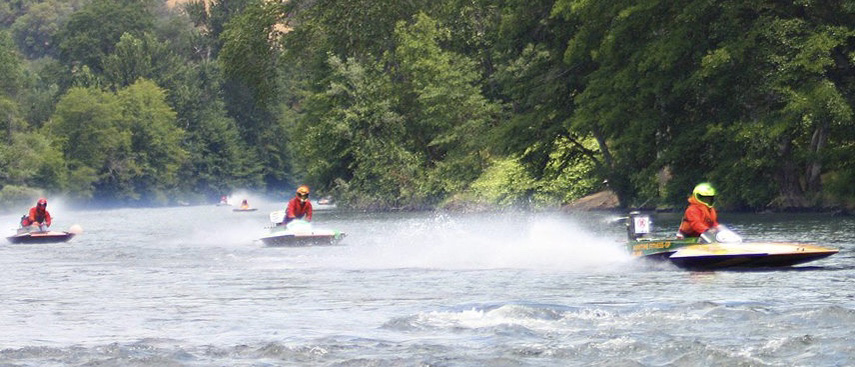 CAL-ORE RIVER RACERS COLVIN OIL-MY CIRCLE-K SERIES BEGINS 2018 WITH THE HOOPA HYDRO HERITAGE
On Mother's Day, May 13th, in Hoopa, California, the green flag will wave to begin the 2018 hydroplane racing season on the pristine Trinity River.
It's the first of 8 scheduled Cal-Ore River Racers Association (CORRA) events sanctioned by the American Power Boat Association (APBA).
The Hoopa Tribe and Lucky Bear Casino present and welcome the Cal-Ore 'Colvin Oil-My Circle-K' series in the two-day event with time trials in downtown Hoopa at 11am, and a boat show, barbecue, and driver auction fundraiser set for Saturday May 12th at 5pm.
On Sunday, the marathon lap race begins and finishes at the Hoopa bridge at Noon with the Awards presentation on the beach at 2pm.
Colvin Oil/My Circle-K became the new Cal-Ore River Racers series Title sponsor, led by President Lane Colvin. Lane has been a longtime supporter of racers, racing, the racing communities of northern California and southern Oregon,and Cal-Ore for many years.
With over 40 retail stores, Colvin Oil is a supplier of fuel and oil to retail outlets from San Jose to Seattle.
Veteran Roger Sanderson (#B200) of Hoopa is the defending race and series champion, winning 5 of the 7 races in 2017. Sanderson has won 13 of the last 21 Cal-Ore races, and secured his 5th High Point Championship in his 33-year career last summer.
Sanderson's first title came in 1988 when Cameron Kirkland (#68) and Jesse Reinhart (#17), who have finished runner-up in each of the last two seasons, were only toddlers. However, both young racers have made their mark on the tour, pushing Sanderson. Kirkland won back-to-back races at Klamath, Cal. and Gold Beach in 2017, earning his first career wins.
In 2016, it was Reinhart doing the same—winning at Rooster Crow (Rogue River, Or.) and Hoopa. Kirkland finished second in the points race last year, while Reinhart was the 2016 runner-up.
Several other racers are expected to make the podium Sunday, including 2017 top-5 finishers Michael Dickson (#20) of Willow Creek, California, and veterans Jeff Lewis (#007) and Derek Ely (#11), both of Grants Pass.
And, Hoopa locals Norvin (Jude) Hostler (#50) and Karl Norton (#77) are expected to be in the mix, too.
For more information, schedule, and results, visit facebook @caloreracers.