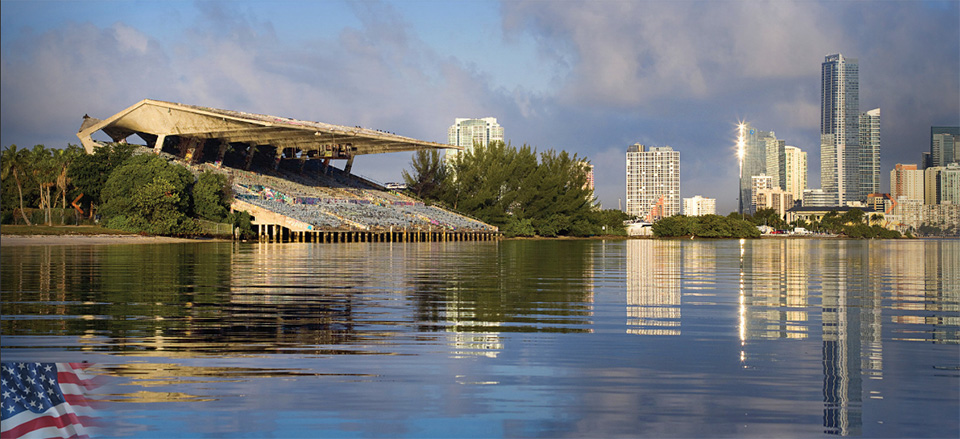 AFTER 26 YEARS BOAT RACING RETURNS TO MIAMI MARINE STADIUM
"The Miami Marine Stadium was my favorite venue. I don't think there is another place in the world like this." – Buddy Byers, former hydroplane driver.
In 1992, Hurricane Andrew ripped through Florida destroying tens of thousands of houses and causing billions of dollars' worth of damage. At that time the City of Miami shuttered the Marine Stadium and it has stood vacant ever since. Constructed in 1962, the Stadium was built for boat racing. It featured hundreds of races, concerts and other events during its years of operation from 1963-1992.
After this long absence, leading marine motorsport promoter, Powerboat P1, is bringing two exciting race series to the stadium this coming weekend (April 21-22). The double bill of high-speed action will feature the opening round of the P1 SuperStock USA Championship, the world's foremost one-design powerboat series, and will also kick-off the P1 AquaX personal watercraft season in the United States.
While the stadium itself is not yet ready to host the number of people expected to attend the P1 events, its waters are more than ready for the competitors and, with the iconic stadium as the backdrop, the event will be the perfect occasion to celebrate the City of Miami's commitment to its restoration and make waves once again.
Azam Rangoonwala is the CEO of Powerboat P1 and explains what it means to be bringing the high-octane sport back to the water:
"Myself and everyone at Powerboat P1 feel extremely honored to be racing at Miami's Marine Stadium. The stadium was once home to some of the most thrilling marine motorsports in boat racing history, and we hope that our P1 SuperStock and P1 AquaX series will re-ignite people's love of the stadium and spark interest for our high- speed sports too. I look forward to seeing how the competitors fare on what is renowned as being quite a tight course, and also I personally look forward to seeing the work on the stadium commence in the not too distant future."
The return of boat racing comes at a time when the City of Miami is moving forward with plans to restore the Marine Stadium. The City has hired architect RJ Heisenbottle Associates to develop the plans and has decided upon a funding strategy that will utilize revenue bonds to pay for the estimated $45m restoration cost. Just last week, the Marine Stadium was placed on the National Register of Historic Places, a highly prestigious designation which confirms its architectural and historical importance.
"It's great to see boat racing return to the Miami Marine Stadium," said Don Worth, longtime advocate for the Marine Stadium and Co-Founder of Restore Marine Stadium. "Boat racing is symbolically important to the restoration of the Stadium and it is also great, family friendly entertainment."
Given that this is the first boat race in the Basin in 26 years, Worth noted the importance of making sure the event is properly run and protects the environment. "Boat racing is a highly regulated sport and there is very careful protocol that must be followed to ensure the safety of marine life and the environs. I'm very pleased that P1 is such an experienced promoter. They have staged more than 500 races in 18 countries over the past 15 years, including 23 events here in Florida." Worth said that at the Marine Stadium, boat races might take an innovative direction in the future. "I would like to see a boat race incorporate some of the current users of the Basin, such as rowers and dragon boats, into these events. That way, we could have a real celebration of Miami on the water. This race will be a great start to bringing back a wonderful Miami tradition."
Keep up to date with the project via the Restore Marine Stadium's Facebook group here: https://www.facebook.com/Restoremarinestadium/?ref=br_rs
US tour
Miami 21-22 April
Kissimmee 12 May
Jacksonville 2 June
St Pete Beach 16-17 June
Sarasota 30 June - 1 July
Whiting 4-5 Aug
North Point 18-19 Aug
Chicago 1-2 Sept
Ft Lauderdale 17-18 Nov